There are certain skills which one require to effectively run his/her small business. Unlike big businesses you can not afford to hire professionals for different jobs.
In a small business owners need to wear different hats as per the requirement.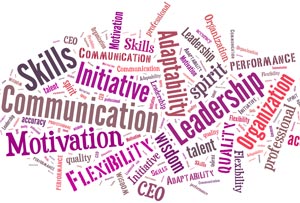 Some of the essential skills needed to run a business successfully are as follows:
Leadership:
It is the key skill a businessperson needs to establish & effectively manage his/her business.
Leadership includes planning, motivating employees, problem solving, communication, coaching employees, decision making, setting short term & long term objectives etc.
Accounting:
It is one of the most important skills one needs to establish & successfully run a business.
The small business owner should be able to make budget of his/her business and should be familiar with bookkeeping.
Successful business owners understand their financial responsibilities and timely execute them.
Marketing & Sales:
Small business owners should be able to market and sell their product/services.
They should know who their customers are, understand their needs and maintain a good relationship with them.
They should work hard to ensure that customers are satisfied with their products / services.
Networking:
It helps a business to survive & grow. A business owner needs to give his time & energy on regular basis to make his/her business a success.
Networking makes a business stronger as when you meet new people you get new ideas, meet potential customers, meet more vendors and others related to your business.
This helps to manage business easily & effectively.
Social networking can be done by actually going somewhere and meeting the people, contacting them by phone or through internet.
Risk Taker:
A business owner is always a risk taker. Taking a risk does not mean jumping from an air plane without a parachute but one should take calculated risks.
When starting a business the owner should be well prepared to face all the challenges.
He / she should have a good understanding of all aspects of the business.
Negotiation:
It is also one of the necessary skills a small business owner needs to be successful.
This skill is vital to satisfy customers and to strike good deals with the vendors.
I hope you found the above helpful. Please feel free to comment.